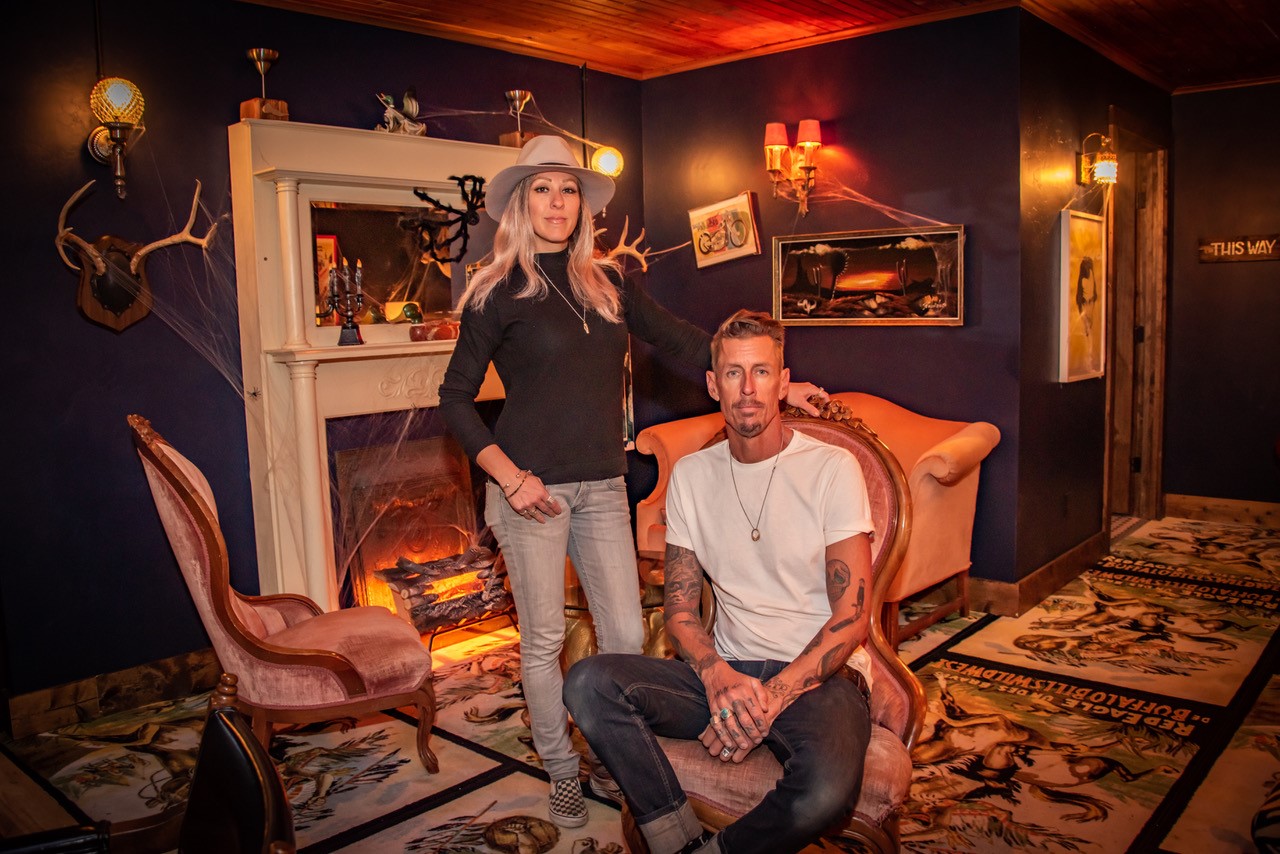 Annie and Tony, Owners of Neon Mallard
THE NEON MALLARD
The goal was to "create a space that was different than anything else." Annie Castillo DeMille and her husband, Tony hit their goal right on the nose. They're the owners of the new bar the Neon Mallard.
The Neon Mallard's unique design starts with its black-painted exterior and outdoor fire-pit. Once inside, green textured bar stools and bird-inspired decor catch the eye. The Neon Mallard is different from anything else.
When you first step foot in the door, it feels almost as if you've stepped back in time. It's as if you're off to the roaring '20s, with darker lighting and a chic loungey atmosphere. There's not a tv screen in sight. It feels like you've found a space where you can escape the pressures of the outside world.
And that's the goal behind the Neon Mallard. It's designed to be a place to hang out with old friends and meet new ones.
An Eclectic Avian Touch for Decor
On top of that, Annie and Tony created an eclectic, unique appeal to the bar. Each piece is handpicked from antique shows across the country. Between the Neon Mallard and the Nightingale Inn, they decided to go with a bird theme.
They even picked many pieces out of their own home to get the feel right, and each piece is one of a kind. While I sat, we talked about an odd, holographic pheasant all in coppertone. We talked about a massive painting behind me. Two eagles seemed to be fighting to pluck a duck out of the ocean. It doesn't make sense, we all agree, but it's super cool nonetheless.
Some guests have even donated their own pieces to the bar. Annie and Tony collect pieces from across the country, but here in Pagosa too. They think it's likely they'll have adopted pieces that once belonged to long-time residents.
They're not through decorating yet. Since every single piece is handpicked, Annie and Tony have high standards of what does and doesn't go in the bar. They still want to add decor to the restrooms and rotate the art to accommodate new pieces.
They hope that even regulars will notice new pieces popping up. Hopefully, they'll provoke you to get up and take a closer look.
Tony built the liquor shelves behind the bar from timbers pulled out the inn's renovations. Parts of the old inn dated back to the 1890s. The timber to build it would have come from Pagosa's surrounding mountains. It's possible the boards now holding a liquor shelf date back as far.
All this adds to the bar's nature that's distinctly unique, but equally Pagosa.
The Neon Mallard and Pagosa Springs
Annie and Tony bought the inn and slated it for renovations last November. They opened up the bar almost a month ago on 13 September. It was a rush to get all the renovations done before snowfall, and they're pleased with the progress.
Annie grew up in Pagosa Springs and traveled around the country for a few years. She and Tony met in California, and eventually, Pagosa called Annie home. Tony fell in love with the place too.
When they planned the Neon Mallard, they wanted a space that was their own. It didn't matter that it didn't necessarily match the ideas of what a bar should like. Despite being unique and pretty different than the rest of Pagosa, they've had a lot of positive feedback.
They hope that by opening up something different, they might inspire others to do the same. The Neon Mallard is something that's a part of Pagosa but also strays a bit from what people usually expect. There's a lot of room for Pagosa to grow and innovate. Annie and Tony hope people follow their unique dreams, goals, and ideas for Pagosa Springs.
Best Food and Drinks at the Neon Mallard
The food and drinks seem to match the same high-quality standards as the bar's unique decor. In part, Annie and Tony wanted to thank Cliff and the rest of their staff for that. Having things flow smoothly, only happens with great people on board.
The Neon Mallard strays away from your typical bar food, but they don't disappoint. It surprised the staff that the cheeseboard was such a big hit. They also offer a Charcuterie Plate. It has salami, prosciutto, and other meats with baguette and assorted crackers.
Or, appease your sweet tooth with New York cheesecake or a flourless chocolate torte.
The Neon Mallard also features a handful of specialty cocktails. Look for drinks like The Chocolate Raspberry to a special Pagosa Pina Colada. Let's not forget the Neon Mallard won second place for best Margarita in Pagosa Springs at the Chile Cha-Cha fest.
Even if you're not a drinker, Cliff can still whip up something for you. He enjoys coming up with creative mocktails - alcohol-free.
The menu changes seasonally, and the fall foods and drinks are on their way, so keep an eye out.
And while the Neon Mallard is primarily a place to relax and socialize, a few events are coming up. First, the Neon Mallard plans to rival Coyote Moon for a rocking Halloween party. Then they'll be putting together a fundraiser for Pagosa Springs to host a skijoring event. – SkisandSaddles Pagosa.
So ask if anything cool is coming up because there likely is.
Neon Mallard - For Locals, Friends, and Friends-To-Be
As the Neon Mallard starts to find its groove, Annie and Tony plan to adjust the bar to the people that fill it. If they see they need more group seating, and fewer tables for couples, they'll make more adjustments. If they realize they need more space, well, there's always another wall they can knock down to create more room.
The Neon Mallard is truly a must-see destination in Pagosa. It's a great place to regroup after a busy day, to relax and recount your adventures. Share a pint or the second-best margarita in town.
It's a place where the locals go to catch up and run into friends - somewhere besides the grocery store. So when you visit the Neon Mallard, you're always likely to run into old friends or make a few new ones.
Want to be part of the Pagosa Springs community? Check out available Pagosa Springs real estate.
Written by Juliara Baeten, Staff Writer for Pagosa Source Real Estate Advisors